Jarle H. Olsen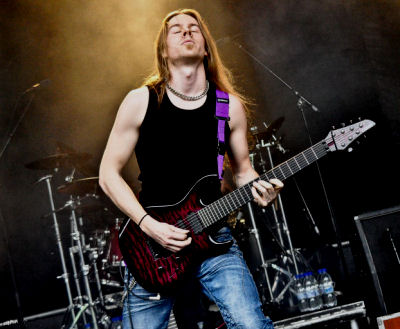 Instrument: Guitars

From: Bergen, Norway

Equipment:
Carvin 6 & 7 string guitars, Dimarzio pickups, POS amps, Eventide effects, MXR pedals, GHS 10-46 & 10-58 strings..

Endorses:





Biography:
"I started messing around with my older brotherís guitar at the age of 12. A year later I received my very first guitar for Christmas which was a B.C Rich. In those days I was seriously into bands like Iron Maiden, Testament and Metallica and learned every song and solo from their albums. I could put on an album and play along with it from the beginning to its end, none stop".

"After some time I got my hands on a Carvin guitar. This was the beginning of the long lasting relation with Carvin and was the guitar that changed my playing style a lot. I never really started practicing before some years later when I discovered more progressive and technically advanced music. I suddenly realized that I had limitations playing wise and I was composing music that I wasnít really able to play. This issue annoyed me because I wanted to be able to play whatever was on my mind without any limitations. So I spent the time practicing, studying, analyzing and breathe music 24/7 while constantly composing as well".

"I had already played in various local bands, but never felt satisfied with the musicianship and wasn't able to express myself through the music that we played. So I was fed up with that way of working and decided to focus on my own material which eventually became "JHOP". After many years of member exchanges I finally found the right guys to join forces with. The chemistry is now very good and everyone seems to fit the project and music perfectly with their own styles and musical sense".


Music of choice and influences:
Iron Maiden, Testament, Metallica, The Cure, Depeche Mode, Planet X, Marillion, Sting, TNT, Dream Theater, A-Ha, Madonna, Supertramp, Deep Purple, Symphony X, Yngwie Malmsteen, Alex Skolnick, Adrian Smith, Greg Howe, Robert Smith, Jason Becker, George Bellas, Paul Gilbert, Marty Friedman, Joe Satriani, Vinnie Moore, Virgil Donati, Deen Castronovo, Vinnie Colaiuta, lots of C64 and Amiga500 game music, Bach, Rachmaninoff, Messiaen and lots of classical music, tons of movie score music, the great Ennio Morricone, John Barry, John Williams, James Bond scores and everything else that affects me and sounds good to my ears..